(Last Updated On: February 11, 2023)
Making an impression starts forming opinion with the front of your home while choosing the best outdoor wall lights for your home is a tricky and important task anyways. A decorative and functional light can easily change inevitable visitors to your gentle and friendly personality. Plus, the right light makes the guest feel welcomed when they entered your property.
Outdoor wall light impacts the perceived the value of the home and enhances safety and security. When you have installed trendy and eye-catchy wall light it also increases the volume of the home like the interiors lighting options. No matter it is a walkway, driveway or porch perfectly lighting helps to enter and exit of your home. You can easily highlight your place and security.
There are various types, design, cost and sizes of outdoor wall lights with attractive features as motion sensor, weatherproofing to make your purchase worthy. For a well-lit place you need a good quality light can be confusing.
Yet if you have several well researched lights which are able to produce enough lighting which massively impact the enjoyment and security of you outside spaces. So, read care fully throughout the content to find best outdoor wall lights for home lights enhancement.
Our Top Picks
Types of Outdoor Wall Lights
For ambient glow for any place including interior or outdoor our first consideration is best outdoor wall lights which need mountain on any article space.
When most of the stairway, walkways, pathways and recessed area is completely dark at night, installation of wall lights helps eliminate shadow and great illumination to reduce the risk of tripping and accident along with personalized decorations for your home.
You should know about the design of them to reach the correct decision about best outdoor wall lights.
Wall Lantern
Among all the types of outdoor wall lights for wall lantern have smooth curves, frosted shades and ornate details which brings another level of comfortable overall the home setting.
These have few solid and traditional finish like black, bronze and antique those makes them more eye catchy.
To bring traditional feel ornamentation with candle types of lighting source and more breakthrough for your entire home. Modern lantern have simple look with acrylic flow and simple look
Wall Sconce
There are a thousand design and style of wall sconce. These can be different choice for its mutant types, light shedding directions-up and down, lightbulbs types and power source variation like battery, solar and electricity.
Because of their visibility you can easily find the best match for your home. These are very easy to install. On the contrary if you choose LED light bulbs this cloud be surprisingly energy efficient. They are long-lasting, robust and durable to lighten up your place for a round of the years with low maintenance.
Barn Light
These types of outdoor wall light have clean lines and minimal look with light shedding. This has a curved arm with shade to hold the light bulbs. Some of them have metal simple cage to provide clean tones characterized with this style.
Thought black is the most popular choice, yet modern prefer colorful finish per the home decor's need including polishes chrome and brushed nickel. This lighting follows transitional and contemporary blending to keep overall look simple yet elegance.
Bulkhead Light
For outdoor lighting these are the most practical and functional way of lighting with less energy consumption to save the electrical bill in the long run. This emits accent glow with industrial design. Mostly this lighting has metal and iron frame construction which makes it enough durable and long-lasting for outdoor placement.
These light fits any style of home even rustic and modern. There are several common finish including black, nickel, bronze, chrome and more with round, oval and rectangular shape of these lights.
As an outdoor lighting is a form of safety and stylish lighting you can not purchase a boring and distasteful one. So in this episode of best outdoor wall lights we rounded up 12 functional and luring options for your outdoor setting. Have a look on them.
1. Solar Lights Outdoor – Wireless LED Solar Motion Sensor Lights Outdoor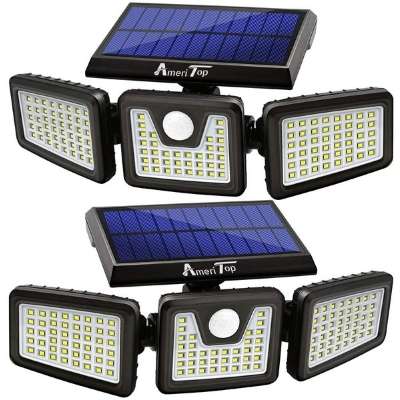 Key Features:
Easy to install
Build in PIR sensor
120 degree beam angles
Emits 800 max luminous
Equipped 128 LED ultra bright light
Provides 6500 k high power daylight
Our first light of best outdoor wall lights list is AmeriTop wireless outdoor lights which comes with surprisingly in 2 packs. These are solar-powered lighting, so you should be placed the on the spot where they have direct contact with sunlight and save energy for long time performance. Along with extremely powerful battery which needs only 8 hours to be fully charged.
It is necessity to being all weather resistance for an wall lights and this is designed with IP65 capacity which can work with 40 to 85 degree Celsius temperature. To save your burning energy and ensure best security this has a built-in PIR sensor which can trigger car, human and animal and automatically turn on the lights. And auto shuts off saves your energy and hardship within 30 seconds inactivity.
To make you more carefree of light on/off this have light sensor which means this light won't turn on day time rather only dark night. The tree adjustable head can be spotted in any direction per your needs. A wide beam angle as 270 degree provide capacity to cover larger area of your front and backyard or garage area with 800 max lumens illumination and 6500k high power daylight from 128 Ultra bright LED lights.
Why We Picked It?
Three adjustable heads
IP65 all weather resistance
Auto shuts of in 30 sec inactivity
Have great coverage for large space
2. Waterproof 100 LED Solar Motion Sensor Light Outdoor Super Bright Security Wall Lights for Yard
Key Features:
Can motion detect
Wider illumination range
Made from sturdy ABS materials
IP65 waterproof
Up to 125 degree viewing angles
Motion range is 10-16 ft²
Here are the second wall lights who also solar-powered from Nelodoony made from high strength ABS with plastic material screen as IP65 all weather resistance. So yon do not need to worry about heat, frost and dust. The black color and ancient clean line desire ready to match any style of your home. Being solar power this has hassle-free installation without cord and wire. You need only do a simple two-steps to get perfect lighting on your desired area.
There is nothing can be beneficial of having a super bright lighting source on the side of your doorway. And this has 100 LED leads which can allow 2000 lumens lights. This light equipped with powerful battery and higher efficient solar panel which takes 6-8 hours to be full charge to ensure unparalleled safety for porch, garden, garage, stairway, pathways and more actually where you need this super brightness.
Together with wife viewing angle and PIR motion it can be first choice for any homeowner. It has 120 degree viewing angles with 280ft² illumination coverage. The motion sensor can detect activity from 10-16 ft² to keep your entire home safe and secure from any crime of intruders. This also that auto shuts off features while it won't trigger any motion with 30 seconds. These four backs light has night mode to save energy and keep you more relax about light on/off.
Why We Picked It?
Durable and good-looking
Designed with night mode
Four sets in a pack
Have standard warranty service
3. Original Solar Lights Outdoor – 3 Optional Modes Wireless Motion Sensor Light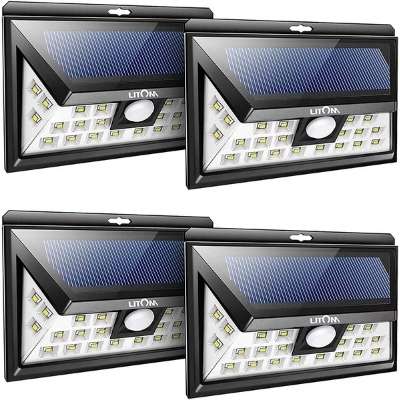 Key Features:
Sensing range is 10-11 meter
Available three optional modes
Installation is effortless
Can cover large area
270 degree lighting angle
A wide range of placement
LITOM introduces an original solar light with 4 packs to make you happier with this purchase has three light modes such as medium light mode, dim light sensor mode and sensor mode to give priority of your various choice of light mode depending on different needs. These are designed with IP65 to support you any hard weather with heat and frost resistance.
There are 24 LED lights with 270 degree wider lightening angle to enlarge the security coverage. On this way this lights can be an ideal choice for deck, fence, garden, porch, stairs and other to enlighten your darkest place with amazing lightening options. These high power LED and latest power management provide durability and long-lasting performance even round of years.
As a solar-powered light it absorbs and convert the sunlight to its power source. You should place one sport from these absolve sunlight directly all day long. The sensing ranges is 10-11 m. The light have wider coverage 59.1 square feet while the four light able to enlighten up to 800 square feet overly. To increase your confident to purchase these amazing lights with 3 years manufacturers warranty service.
Why We Picked It?
All weather ready
Most rated product
Strong and durable
Baked with 3 years warranty
4. Home Zone Security Solar Wall Lantern Lights -Large wall lights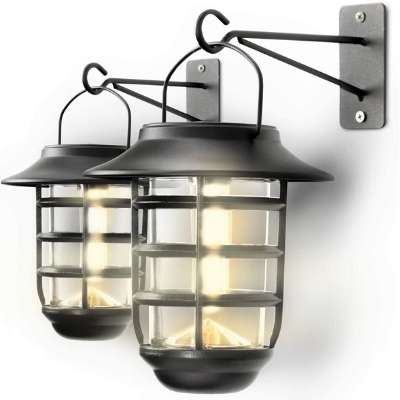 Key Features:
Accent sturdy casing
Build to last
Emits 3000k warm lights
Solar power wall lantern
Designed with integrated crystalline solar panel
Made from high quality aluminum
If you are looking solar-powered wall lantern you can consider Home Zone creation with simple look with elegance. When invited guest, or your neighbor find this outside of your home they won't back without throwing compliments of it. This comes with 2 packs to provide more lighting for outdoor places. With unique hanging design it takes only a few minutes for installation. This does not require any wiring and this is extremely portable.
Their construction and arrangement provide you a clear idea of durability and long-lasting. It is crafted from high quality aluminum and glass content. And the decorative casing allow safeguard for the light bulb. Plus this creates accent light around your home with is eye catchy appearance. The black finish won't disappoint whatever your house's wall paint is.
With LED technology which saves energy and goes rounds of the years with continual use. Most effective features of the light fixture its dusk to drown setting which automatically on lighting be shut off at daytime when the integrated crystalline solar panel absorb the sunlight to charge. It is weather resistance, so you can install them anywhere in different weather heat to frost.
Why We Picked It?
All weather resistance
Ease of installation
Unique hanging design
Dusk to dawn sensor
5. Designers Fountain 1161-BK Value Collection Wall Lanterns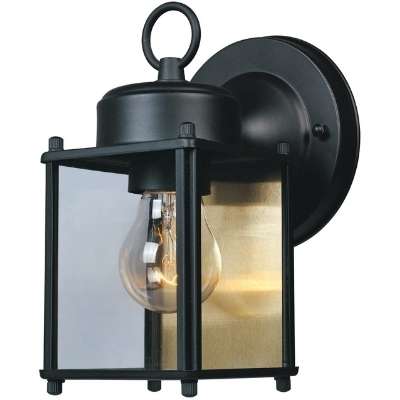 Key Features:
Wider base for great support
Constructed from steel
Works with 60W bulb
Clear glass case
Attractive black finish
Compatible with Compact Fluorescent and Incandescent bulb
To make your purchase safe and carefree this comes with 1-year limited warranty service while UL/CUL certification proves this fixture safe for home's use with risk-free long-lasting performance. So if you are more conscious about your family lives security grab this one for mental peace and super brightening yard of your home. The overall dimension of this light is 5.74 x 4.75 x 8 inches right size for any standard wall of your home.
Keep your outdoor decoration simple and attractive with Designers Fountain's this modern style wall lantern which have metal and transparent glass combination. The sleek design with black finish helps to bring a welcoming environment at your home with installation. You can place this anywhere you fell need french, pathways, in front of garage and more while this is wet rated fixture.
Wider canopy or extension with 4.7 inches ensure unbelievable stability and durable light holder for a couple of the years' performance. There are two choices for bulb lights as Compact Fluorescent and Incandescent bulb from that you can choose your comfortable one with 60W.Waterproof seal with steel construction taken the guarantee of all weather use.
Why We Picked It?
Certified by UL/CUL
Wet rated fixture
Waterproof seal
One-year warranty service
6. Outdoor Wall Lantern – Exterior Porch Light
Key Features:
Clear Glass shade
Metal construction
Needs E26 medium base 60W bulb
Provides 55lumens lights
Sheds 2700k warm white light
Well pricing
Getting a light fixture which fits the majority of people taste that should be updated and good-looking lighting option. Here is an example for such pick which hard to avoid when you are searching a modern and functional wall scone. While it is very hard to find any negatives on them. It comes with hardwired which can be installed without wasting lots of energy and previous experience.
Like other cheaply made lights this has no plastic construction rather the manufacturer taken high quality steel and clear glass to structure the beautiful shade. Hykolity especially keep their eye on the high quality maintaining. This has wet rate to give you wide placement choice of this light from porch to garage. This can be ideal for your indoor setting too.
As a decorative wall lights it produce ambient lights with only 3-step installation.
To light up the darkest place this requires E26 medium base 60W lightbulb. Surprisingly this comes with 1-year warranty against any damage. This product has ETL certified which means this product passed all the test of residential security and performance terms.
Why We Picked It?
ETL listed lighting
All weather resistance
One-year warranty
Comes with universal mounting plate
7. Luposwiten Solar Lights Outdoor – 100 LED Waterproof Solar Powered Motion Sensor Security Light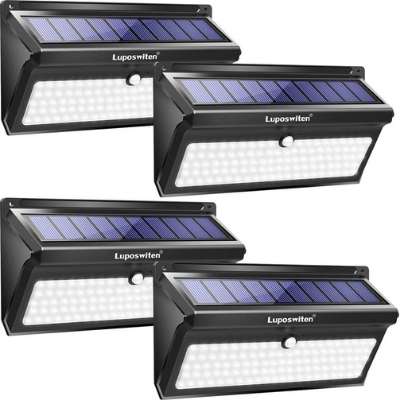 Key Features:
Super bright
Energy saving LED beads
Lights on only night\darkness
Equipped with 2600mAh Li-on battery
Produce 2000 Lumens
Offer 125 degree detection range
An wall lights can be an outstanding choice as fence light when you want to brighten up your border and angle of your property. Luckily, Loposwiten packed this light with 4 packs which are needed solar-powered. yet this 17% higher photoelectric conversation rate which is much stronger than others solar panel, it takes charging during the under sun.
Installation of this lighting is pretty easy when this can be mounted with 3M adhesive tape, and you need to purchase them separately. There are 100 super bright LED beads which provides up to 2000 lumens those are much brighter than contemporary solar lights. With IP65 it is ready to run onto any weather heat or frost. Lights are made out of ABS which won't disappoint you even after a couple of years of use.
Build in PIR motion sensor have 13-26 feet and 125 degree viewing angles which offers more security. Along with auto shuts off it will save 2600mAh lion battery. If this sensor don't detect any motion in 30 second it will automatically off. This can go up to 50000 hours which can be surprising for anyone. Multi functionality of this light ideal choice for swimming, street, step and backyard.
Why We Picked It?
All weather ready
Quick charging capacity
Strong motion sensor
Have good warranty service
8. VOSONX Solar Lights Outdoor – Motion Sensor Security Lights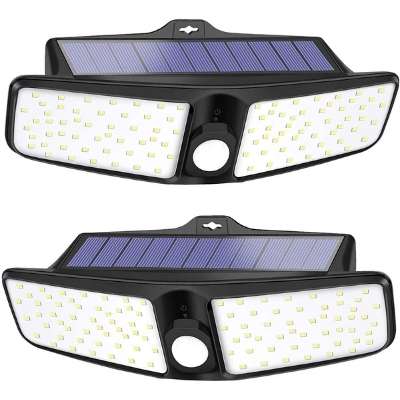 Key Features:
Paper instruction included
Detects range of motion (0-26) feet
270 degree wider illumination angle
Brighter with 100 PCS LED beads
Light motion technology
Easy to operate with pinhole on/off switch
For best outdoor wall lights heat resistance and commercial IP65 are necessary to make the versatile, durable and long-lasting. The VOSONX designed their solar wall light smartly which can meet all the hard weather and without tension of exploitation in extreme hot days and leak in rainy season through the all weather resistance requirements.
The package include two solar lights to pave the way of more security. Plus these lights are packed with easy installation kits and manual instruction to save your time and energy when you're trying to install them. Manufacturer want to make their customer happy with 1-year warranty and 30-days money-back guarantee. With build in battery this takes 6 hours changing to provide 4-6 hours lights.
Detection of motion 0-26 ft helps you reach your door from yard without falling and dipping with automation lights on. Beside this automatic shuts off occurs 30 seconds of inactivity. The 100 super bright LED light can illuminate up to 98.4 square feet with 270 degree viewing angles. Because of the light sensor its turn on in only at night or darkness, while you need not worry about switching on/off the lights.
Why We Picked It?
Waterproof and heat resistance
Baked with 12-month warranty
Built-in powerful battery
A wide application
9. Solar Lights Outdoor – Luposwiten Solar Motion Sensor Lights Wireless Security Lights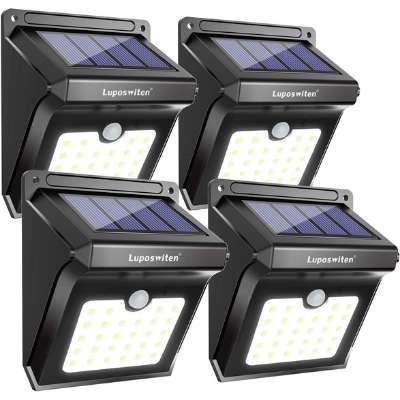 Key Features:
Auto shuts off in 30 secs
Super bright lighting
120 degree viewing angles
Equipped 28 powerful LED lights
Easy to use and install
Wireless design
Luposwiten introduced their compact-size solar wall lights consisting of 28LED light beads to brighten any dark place including porch, fence, garden, patio, driveway and more. The compact size did not mean they are less powerful as they capable to provide 400 lumens which is a pretty brighter option for outdoor lighting arrangements.
These solar lightings have up to 5000 hours of long-lasting quality with a motion sensor which can detects motion 10-16 feet range. The 125 degree wider viewing range can ensure more security while the all-weather proofing capacity allows to be to withstand heat, rain, frost and cold this allows long-lasting performance even more than you have imagined.
For being a safer household lighting this lights faces UL test and achieve FCC certification. So you can purchase them confidently without doubting their performance and high quality materials constructions. There two modes on/of except dim capacity. When it detects any motion light turn on automatically and shuts off 30 second on inactivity which saves energy and give durability of the light.
Why We Picked It?
IP65 waterproofing
FCC certification
One-year warranty
Low maintenance
10. Solar Lights Outdoor Motion Sensor – Waterproof Led Outdoor Lights Super Bright Solar Wireless Wall Lights
Key Features:
270 degree lightening
Goes up to 30000 hours
Provides 1800k lumens
Great coverage
Built in PIR motion sensor
Sensing length is up to 26 feet
The main advantage of solar-powered is you can install anywhere even there is no electric supply. If you feels need a super bright light for outdoor you should consider LECLSTAR wall light which have 268 Super bright LED beads with 1800K lumens lighting to enlighten the darkest corner of your home. This has a wider solar panel which absorb sunlight during the day time and light up your home at night.
To ensure durability this made out ob high quality ABS materials with IP65 waterproofing featuring. So you will be worried free weather it is a season of rain, frost and cold. This lighting is designed with a powerful motion sensor which will perform its action any hard circumostance. It can detect an object from 0-26 feet distance with 120 degree lighting angles.
You can choose the installation process between two ways- mounting with two screw or using adhesive pads per your need and convenience. No matter you have a good size yard it has 276 square feet coverage with perfect lighting. Most interestingly this have lifetime warranty and praiseworthy customer service to make you as a 100% satisfied customer.
Why We Picked It?
Energy saving and cost-effective
Environment friendly
Adapt to all bad weather
Lifetime warranty support
11. LED Outdoor Wall Light – Dusk to Dawn Light Sensor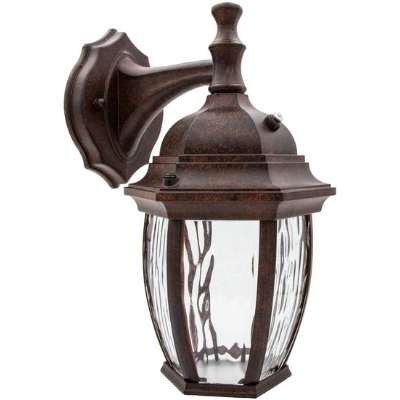 Key Features:
Amazing aged finish
Extremely durable and long-lasting
Match any of the decor of home
Offer 3000K warm white light
Designed with photocell sensor
Decorative and functional
People have great attraction for accent decorating light for the farm house and modern home to bring warming and cool touch with small effort and changing. And you can consider this simple yet beautiful wall light one step on the process of home decoration. This has antique finish with glass and aluminum blending construction.
As a stylish piece of lighting it easily match any theme and wall paint. This comes with fully integrated LED light. You don't need to attach a separate bulb to run the light. It produces 3000k warm white light to illuminate porch, front or side door, garage and other locations. There are three beautiful finishes- white, black and antique from where you can choose one per your preference.
This light designed with photocell sensor which can allow dusk to dawn features to atomically light up on the dark and shuts off at daylight. The certification from ETL/CETL will help to trust the Maxxima's items for their functionality and safety. The overall dimension of the light 7.30×6.6.60 x 11.00 inches fits even in the tight place.
Why We Picked It?
Wide placement options
Three finishes available
Comes with fully integrated LED
Certified by ETL/CETL
12. Hmcity Solar Lights Outdoor – Motion Sensor Security Lights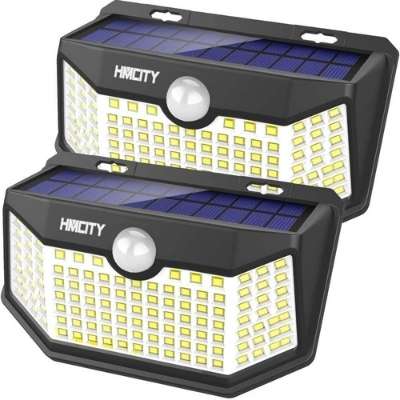 Key Features:
Weather resistant and heatproof construction
Lager illumination coverage
270 degree lighting angle
Energy efficient
Adjustable lightening direction
Have powerful motion sensor
We are now at the very end of best outdoor wall lights review episode with Hmcity solar lights have 2 pack to allow brighter yard and other outdoor lighting. It is lightweight yet made from hard plastic which able to withstand any weather heat or cold. Plus this is ani corision and water proof to place anywhere you wants light up.
It is very hat to find any shortcoming in this light pack which have high efficient solar panel with monocrystalline silicon solar cell with able to absorb sunlight faster than other models. There are 120 LED super bright beads to remove darkness of larger area with 270 degree lighting angle even up to 30 square feet yard.
Ensuring more convenience with your new lighting this have three lighting modes-security mode, permanent on all night and smart brightness level control. While the PIR motion sensor have great sensing ability. This baked with 12 month warranty and great customer support.
When your are more caring towards your family they hace certification from FCC, CE and ROSH.
Why We Picked It?
Certified by FCC, CE and ROSH
30 secs anti shuts off
Excellent brightness
Have 12-month warranty
Buying Guide of Outdoor Wall Lights
Beauty and security comes with wall lights for a home. As these item have a thousand choices of design, styles which makes you overwhelmed to pick the right for you. If you don't have an idea about their features and difference you can't compare the collection which are placed before you. To make you experience about them, we are providing this list of factor to consider before best outdoor wall lights.
Power Source
There are three options when you are well researched on different models such as-plug in lights and hard-wired. As you know solar-powered takes energy from sunlight. Some of the complaints that the set of these very costly but in long run you can save your energy bill with this way. Universally plug in lights need to be connected to a power source outlet or extension cord to support the light. On the contrary hard weird light directly connection to the electrical wiring of your house. Choose the right one for your place.
Bulb Lights
To get high intensity light you should find effective and energy saving lightbulbs for wall lights fixture. Though the most popular three types of bulb LED, CFL and Halogen suitable for these lights. Yet LED options are long-lasting, durable and energy efficient that CFL and halogen. Beside this high intensity discharge(HID) can be a great idea for large areas.
Motion Sensor
While security issuance like reduce chemical activity, safety and peaceful mind of homeowner comes with the idea of outdoor light you should be careful to floodlight with broad beamed and high-intensity lights. Plus, motion sensor could be a great feature which is available most of the modern wall lights those turn on automatically when movement is detected and frightened the intruders. There is another benefit of having a motion sensor in your light to save the electricity.
Dusk to Dawn Option
When you are planing to buy an wall lights you can't deny the Dusk to dawn features in your lighting which are working with lighting sensor and turn on and off with the sun resetting and sun rising. If you want to illuminate your property throughout the night without interfering your on/off schedule this could be an ideal choice undoubtedly.
Maintenance
Find a lighting opting with low maintenance and good warranty service. As these lights for outdoor so have to face bad weather and replacement is very difficult and time-consuming. Some of them lights can go up to 10 years with water resistance, heat distribution and more. While LED light can be a reliable choice to makes this lighting long-lasting.
Frequently Asked Questions About Outdoor Wall Lights
Within the section of FAQs we are trying to learn everyone about outdoor wall light's functionality, advantages, and related thing which can help you to purchase the best options for use. If you have more questions about wall lights feel free to as the comment section. We will try to provide a satisfactory answer to your questions.
What is outdoor lighting?
Along with mounted or hanging lights on onto the exterior of the home to ensure supreme security and safety is the main purpose of outdoor lighting. While wall lights with LED flights are the most popular choice which are elegance and perfect lighting source for outside the lace. Manufacture designs these lights with various excellent features like motion sensor, dawn to down and adjustability with adorable price ranges. It is easy to found the right one when these are available in the market with various designs and styles.
Where should wall lights be placed?
Placement of the wall lights fixture depends on your accessing and moving place per your various need. Mostly in front of the entryways, in front of the garage, on the side of the door, on the pathway of garden and more. When the purpose of this light to lighten those place which are in the area of lights yet need to move frequently. How to install Wall Lights.
Are motion sensor is necessary for outdoor wall lights?
Of course, motion sensor is an essential feature when you need more advanced lighting with automated turn on/off only motion detect and inactivity. You not to worry the turning on and on every time. Above these intruders enters your place with rear lighting it automatically lighten up and frighten them to ensure peace of mind of your entire house.
Which is best higher wattage or low wattage for outdoor wall lights?
Undoubtedly higher watts light able to brighten your place better than the low wattage. Floodlights can be great assistance to ensure highest security at darkest night where danger can hide. Most important factor you should to bled correct bulb wattage to reduce blending glare and deep shallow in the rear lighting places.
What is damp and wet rated outdoor lights?
Most of the outdoor light is designed with damp or wet rated which means the location of placing them. While wet rated fixture are designed with capacity to place anywhere even directly exposed to wind and rain as any had circumstance. Good outdoor lights basically designed with wet rated like motion sensor lights and post lights. When lighting fixture for those place which are not exposed directly to rain and moisture even covered with shade or ceiling is damp rated.
Conclusion
A home's architectural and unique greatly depends on best outdoor wall lights, but it is a crucial part to match the home's presentation and lighting. We have done all the task to provide your best choice list with reasonable price.
We know you time and money's value also the safety matter interrelated with wall lights. So our process of testing consists of its super lighting capacity, safety features, easy installation and control design to be the great helping hand to find a great lighting throughout the writing.
Before suggesting you we have tested and proven this ideal for home's use. These have good rating and review by the customer of this product which make you satisfied.