(Last Updated On: June 16, 2022)
Are you worried about how to light a bedroom without overhead lighting? Don't be tense anymore. We will show you amazing ideas and you will learn how to light a bedroom without overhead lighting from this article.
Overhead lights illuminate the room with brightness. If you are in a rental apartment and you don't have any way to set overhead lighting, you can try other lighting ideas and create your desired cozy vibe in your bedroom.
There are many types of lights with various shapes, sizes, and designs. You can give your room a rustic look or a modern look through the lighting ideas.
If your bedroom does not have overhead lighting, then you will not need any wiring work and it will save your money. Again, some lights come at reasonable prices. So you can give your bedroom a creative touch by choosing beautiful lights. 
While adding other lights you can set as many lights as you want because sometimes one light may not be enough as you are not putting any overhead lighting.
Try to illuminate the entire room, especially focusing on the working areas. The advantage of having several lights in your bedroom is, that you can keep some of them off when you don't need them. These tricks will save your electricity bill.
A bedroom without overhead lighting may look dull at first look, but you can decorate it according to your choice and make the atmosphere of your bedroom amazing.
Don't Attach Own Fixture
It is quite disappointing if you are going to live in a bedroom where there is no overhead lighting. But don't act foolishly.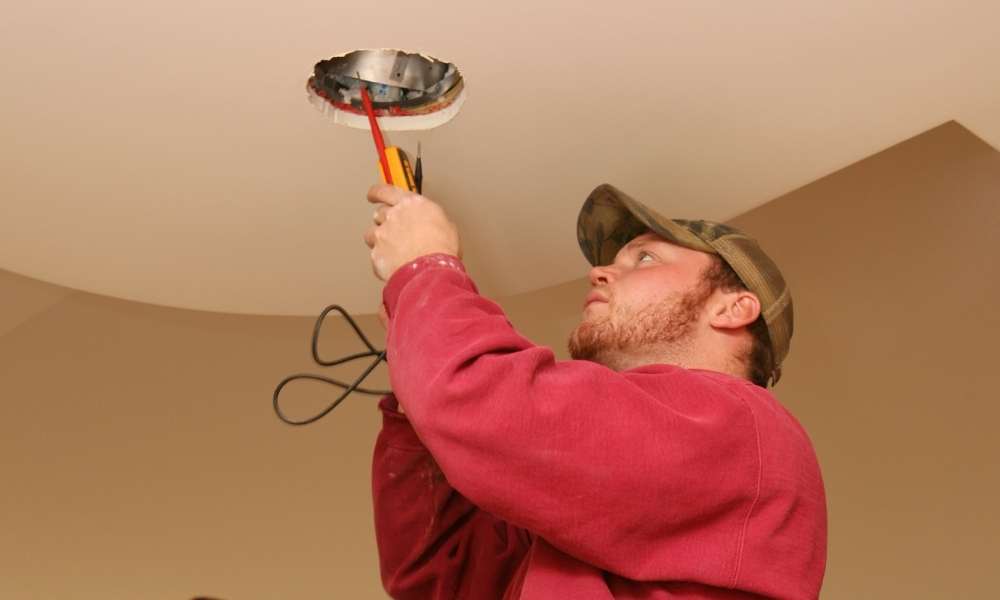 If you attach your own fixture on the ceiling as overhead lighting and drill walls for wiring, you will be accused of lease violation. You will lose the security deposit and also face issues with electrical safety.
Then you can not even complain if you face any trouble with electricity and you will not get back the security deposit.
Instead of violating the lease, you should attach plug-in fixtures and other lights to illuminate the room. With those lights, you can make your bedroom look classy and updated even though you don't have any overhead lighting.
Attach Hanging Lights
You can attach beautiful pendant lights if you don't have overhead lighting in your bedroom. You need to imagine how to light a bedroom without overhead lighting. Use your creative thoughts to make the outlook as you desired.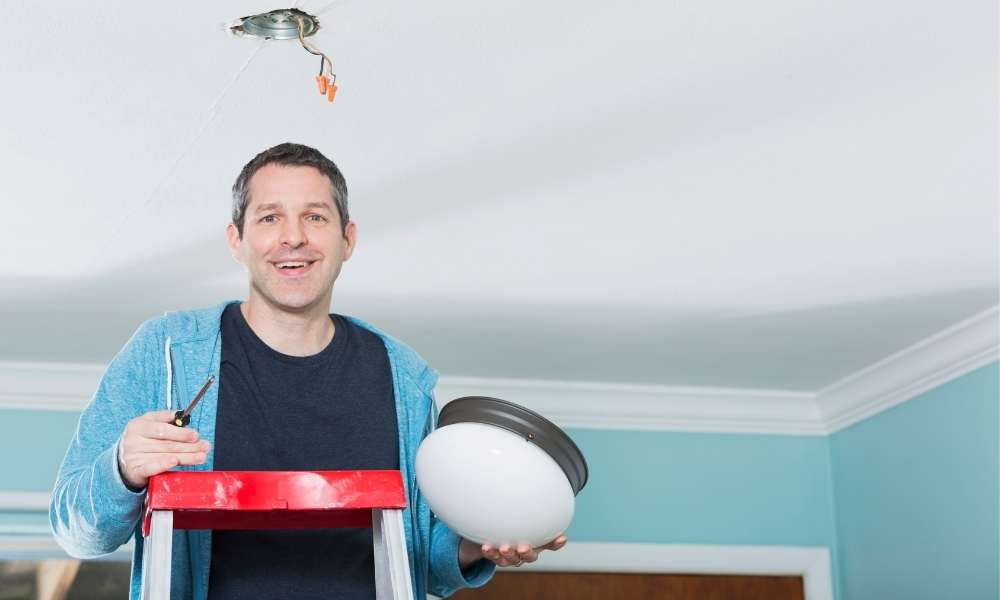 Hanging pendant lights come with amazing designs that will create a dreamy look along with illuminating the room. They are considered as the best substitute for overhead lighting.
But if you want to hang pendant lights, you need to get permission from the authority or owner of the house as you will need to hang the light on a hook. Get permission and attach the hook.
As you can do any wiring, you need to use a plug-in pendant light. Hang the light on the hook and run the plug-in wire through the ceiling to the outlet. Mount the wire with clips so that it does not look messy.
Mount Wall Lights
Wall lights give the room a cozy feeling. They are easy to mount on the wall and turn the switch on.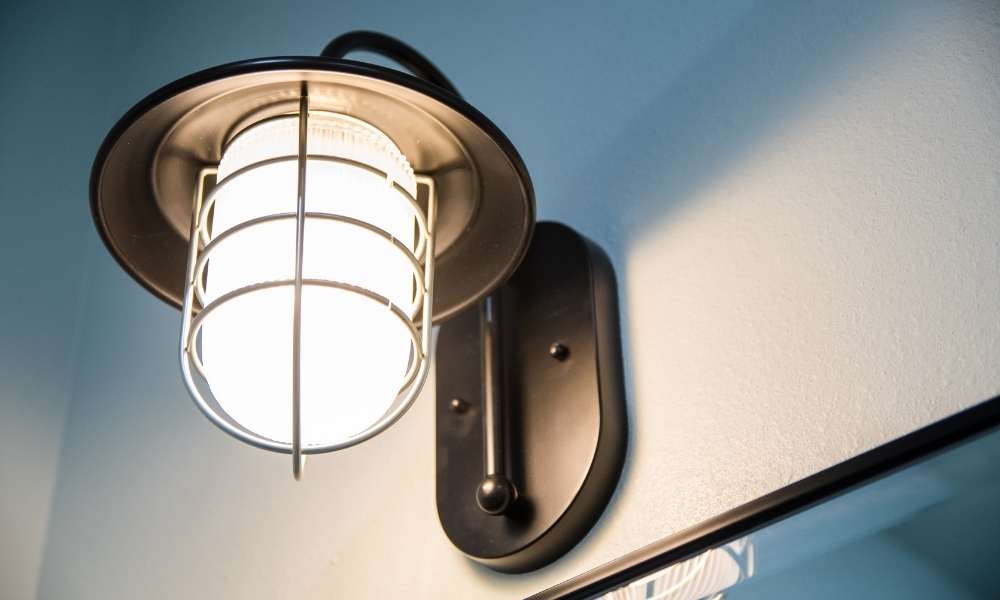 These lights come in many styles and shapes. They can be glass-covered light with puppy style. You can attach them to several walls of the room to brighten up the room evenly.
Just mount the lights and turn them on. These lights create a classy outlook. You can match the light color with the wall color to make it bright and blended. Wall lights create a different ambiance.
You can mount the wall lights at an oblique angle too. Mount 3-4 wall lights if you are decorating the bedroom only with wall lights.
Try Smart Bulbs
Smart bulbs are an amazing solution when you are searching for how to light a bedroom without overhead lighting. You can control smart bulbs using android apps or using voice commands.
Another advantage of a smart bulb is, that you can make it dimmer or brighter according to your demand. You can attach smart bulbs to any fixtures and they provide enough light that a bedroom requires.
So if your apartment authority does not allow you to attach overhead lighting, you can choose low-weighted LED smart bulbs which are bright and save energy as well.
You don't need to attach any dimmer switch with smart bulbs as they can be controlled with apps.
Allow Natural Lights to brighten the Bedroom
Almost every bedroom has at least one window. Some bedrooms have two windows. Open the windows and allow the daylight to enter into your bedroom.
No light is brighter than natural lights. You can't have natural lights at night but you can definitely use daylight all day. You can set a mirror opposite the window so that the mirror reflects the natural light.
Use light-colored curtains to brighten up the room. Dark-colored curtains take away the light but light-colored curtains help the lights to come into the room.
Keep the windows open and bind the curtains with colorful ropes. Then you can use the daylight perfectly. To know more about how to light a bedroom without overhead lighting, keep reading.
Use Portable Lights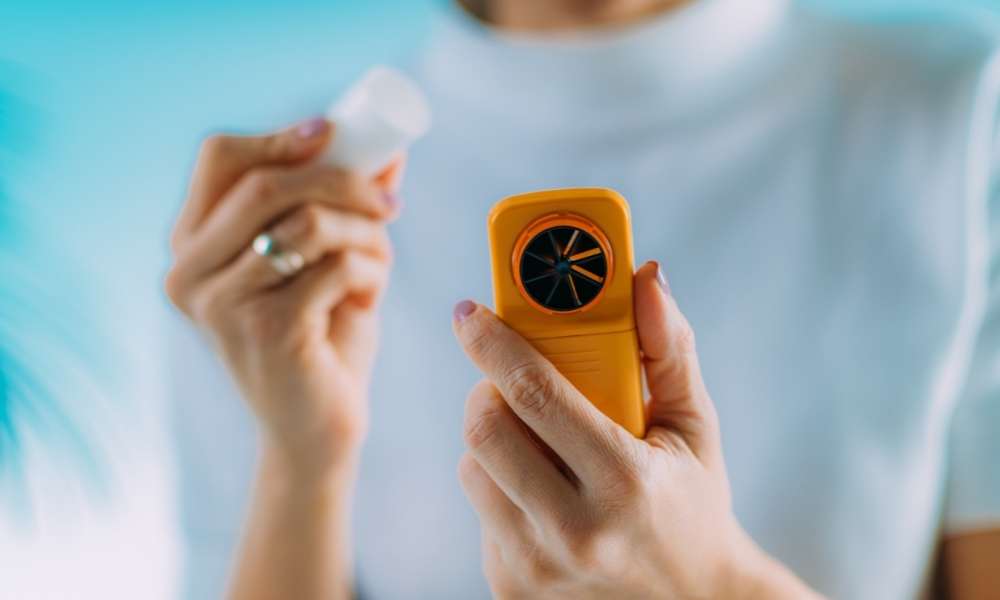 Portable lights are low weight, budget-friendly and easy to carry. You can use portable lights anywhere in the room and you can carry the light with you.
Portable lights can be used anywhere whenever you need them. Just plug it into a power outlet and it will illuminate the area nicely.
Maximum people like portable lights because they can carry them anywhere they go. Find a port and brighten up your bedroom with multi-colored portable lights.
Attach Wall Sconces
Wall sconces are fashionable lights. They are updated lights and create a modern outlook. If you want a classy outlook in your bedroom, then nothing is better than wall sconces.
Wall sconces have amazing shaped lights and enormous designs. The light cover designs and light shapes are just fabulous. You can mount wall sconces in any wall of your bedroom. But attaching wall sconces on one side or both side walls of the bed looks great.
Wall sconces make the outlook of the bedroom glamorous. You will not miss overhead lighting when you will attach wall sconces. They don't only brighten up the room but also create an aesthetic look.
Select plug-in wall sconces to avoid wiring issues. Just plug it in and enjoy the magic of wall sconces.
Place Floor Lamps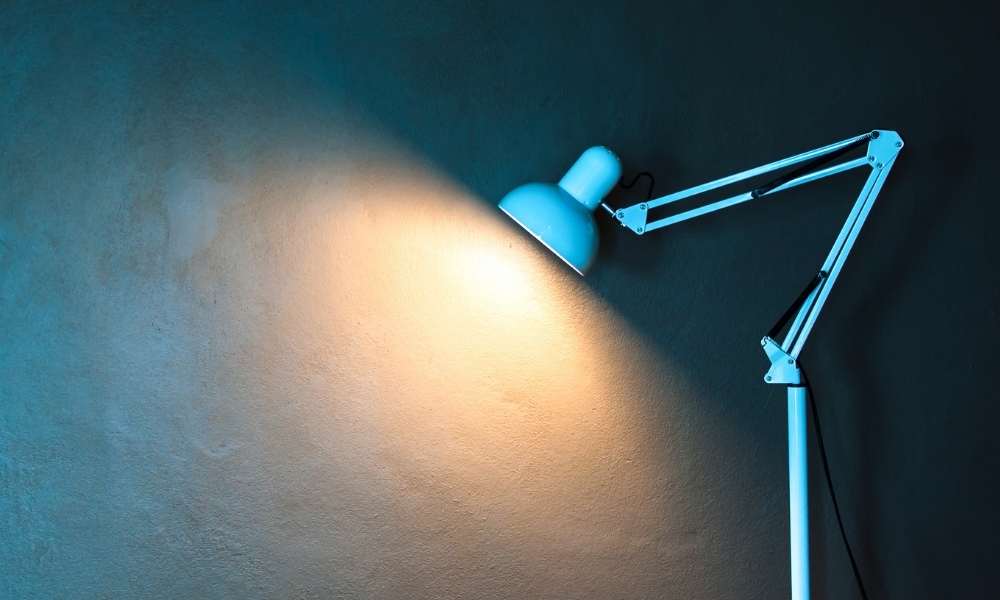 Another great idea to enlighten a bedroom is floor lamps. When you know how to light a bedroom without overhead lighting, you will not be upset anymore thinking about overhead lighting.
There are various types of floor lamps. In some floor lamps, the lamp comes with one light fixture. Again in some floor lamps, the lamp comes with two or three light fixing points together.
Floor lamps are tall and illuminate the entire room. They come with amazing shapes which sometimes look like a decorated piece of beauty.
You need to plug in the floor lamps. Use one or more floor lamps according to your requirement. Add a dimmer switch to each light so that you can increase or decrease the brightness anytime you want using the switch.
Place Arc Lamps
Arc lamps are another type of beautiful lighting option. Generally, arc lamps are considered a form of floor lamps. They are beautiful and emit enough light in a bedroom.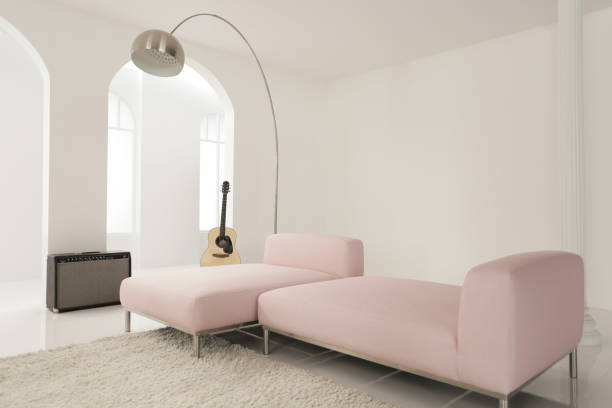 Don't worry about placing an arc lamp. They come with stands. So you can easily place them beside your bed. Plug in the arc lamps and enjoy the glow.
Decorate with Tree Lamps
Tree lamps look like a shining tree. The shape of the light is exactly like a tree. The lights are at the top of the branches.
These lights create an amazing glow and define your fashion sense. Your room will be enlightened with a gorgeous look. The lights look like blooming flowers on the branches. The lamp has a stand. So you can place the tree lamp anywhere in your bedroom.
Tree lamps come with plug-in options. So you don't need to do any electrical work or wiring. It will be better if you have a power outlet beside your bed. Then you can place the tree lamp beside the table and plug it in to illuminate the room.
Wanna know more tricks of how to light a bedroom without overhead lighting, continue reading.
Hang LED String Lights
Hanging string lights in a bedroom is super easy and it makes the room magical with shiny lighting. LED fairy string lights come with many shapes. It can be small, star shaped, leaf shaped, round bulb shaped and many more shaped.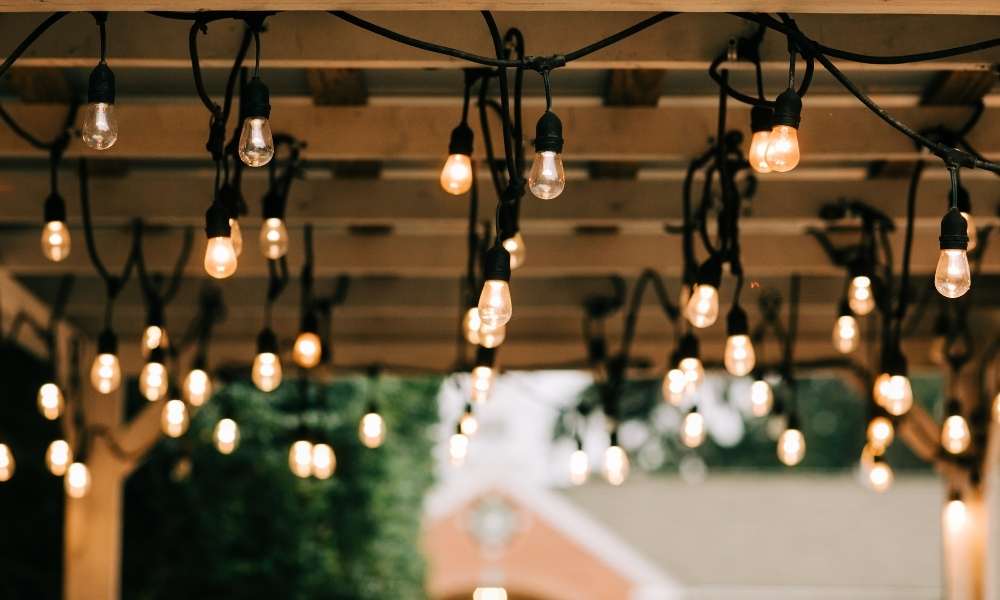 You can choose the string lights according to your choice. Keep one thing in mind that you must check each of the string lights before hanging. If there are any broken lights or if you find any problem in any light, you can replace them from the shop.
You can hang the string lights over the pipes on the ceiling or you can use mounting clips with tapes.
Bulb-shaped string lights illuminate the room more than other string lights. If you want romantic ambience or create magical ambience with string lights.
You can hang curtain lights as well. Curtain string lights come with curtain shapes. They look like hanging shiny magical curtains and enhance the aesthetic beauty of your bedroom.
Use Table Lamps
Table lamps are normally used to focus a specific zone. You can put table lamps on different types of tables. Bedside table, center table or reading area is appropriate for placing table lamps.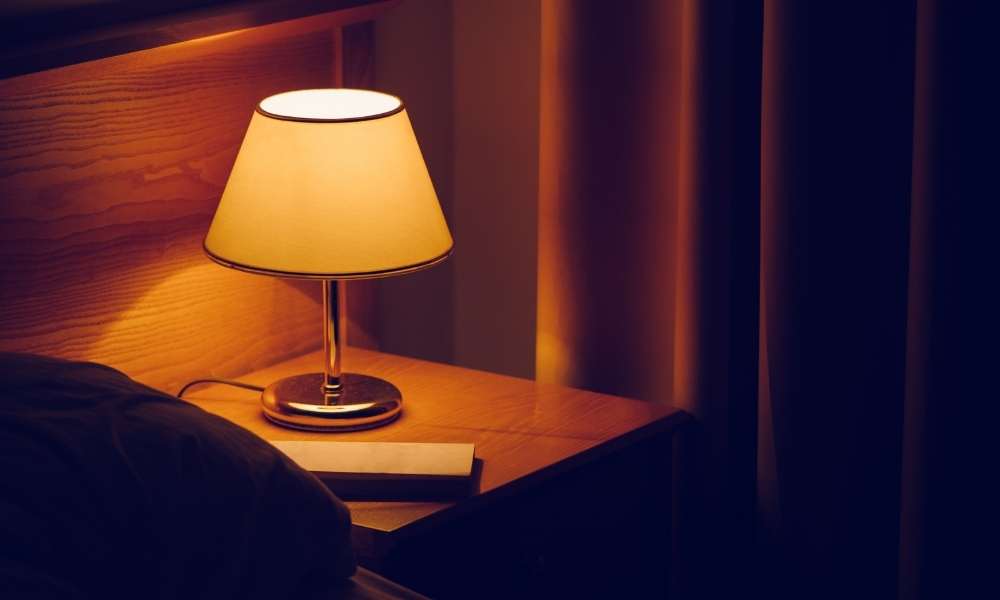 As table lamps illuminate a specific area, they can be used as task lights too. If you are planning to use table lamps as a substitute for overhead lighting, you should add several table lamps and place them in different points of your bedroom.
Table lamps can be used with other lighting options when you don't have any overhead lighting in your bedroom.
Use LED Faux Candles
Real candles can definitely create an amazing outlook but the flames are risky and may cause fire issues. So you can utilize the faux candles to enlighten your bedroom while keeping the romantic vibe of candles.
Faux candles can be placed in front of a mirror, on the bedside table or on the reading table.
They do not illuminate the room too much, but these faux candles can be the best choice for romantic dinner dates or you can create a cozy feeling by placing them. Faux candles are battery-powered.
Try Laser Projectors
You can use laser projectors to enlighten the room and create a dreamy ambience. The laser projectors not only illuminate the room but also amaze with magical scenarios.
You can see the moon, stars and other things in the galaxy on the ceiling and the wall.It will make you feel like you are in a floating position in space. This dreamy ambience can only be created using laser projectors.
Attach Star Lights
You can attach star shaped LED lights as you are living in a bedroom without overhead lighting. LED star lights can be attached in many fixtures. They are like other LED bulbs but the shape is like a star.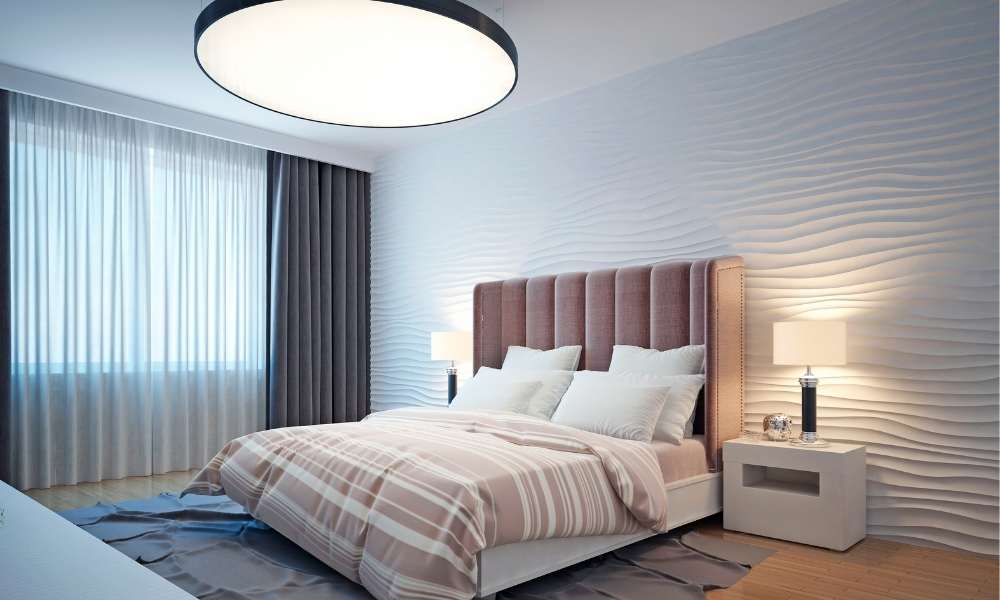 These lights come with a plug in option. So plug them in and enjoy the lighting with amazing beauty.
Attach LED Strips
LED strips come with tiny lights in strips and create a nice ambience. These lights can set your mood. LED strip lights can be a second option layering with other lights.
They do not illuminate the bedroom like overhead lighting. You can create a dreamy outlook with these beautiful light strips.
Try Edison Lights
Edison string lights are amazing and they create a classy outlook. Adding edison lights in your bedroom will express your style sense and give your bedroom an outstanding look.
If you want industrial or updated outlook, edison lights are the best option. They are not too bright but you can add too many of them to increase the brightness. You will feel a warm vibe if you hang edison lights.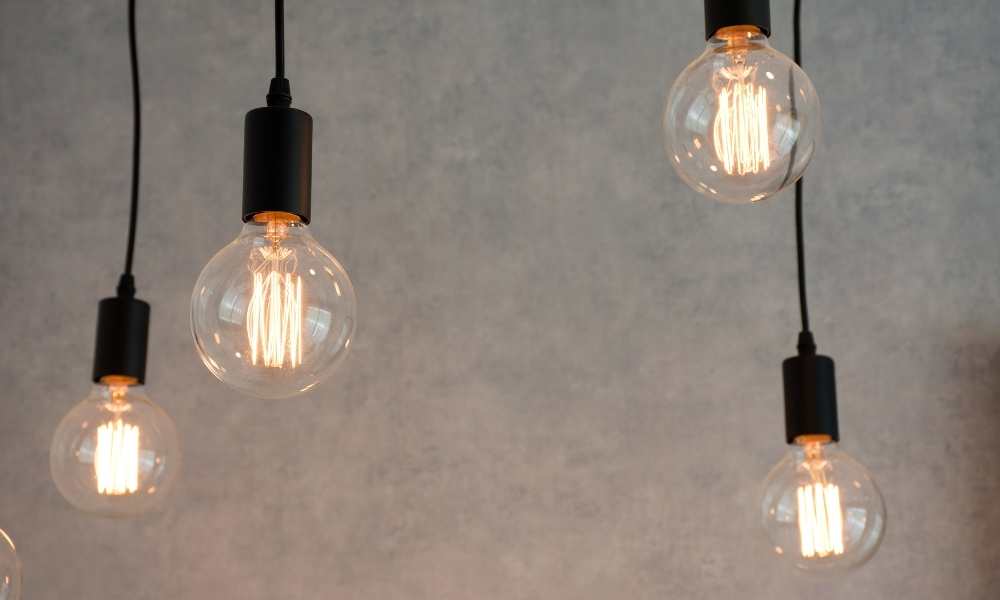 For family gossiping or couple dates, edison lights can be an amazing option. Just plug the lights in a power outlet and create the magical look. Hang the lights on a large hook or existing pipes on the ceiling.
Use Uplights
Uplights generally focus the light towards the upper side which means it enlightens the ceiling areas. These lights come with a plug in option.
As you are using these lights instead of overhead lighting, use 4-5 uplights as a secondary lighting option.
Layer the Lights
A bedroom needs three types of lighting. One major lighting option to illuminate the entire room, task lights and accent lights. These categories of lights are for different tasks. The major illuminating light should be bright enough and spread the light evenly through the room.
Task lights should be used to focus work areas. Accent lights create different ambiences and they are also used in illuminating architectural pieces.
Layer all types of light together to use them together as your bedroom has no overhead lighting. You can place pendant lights, wall lights, tree lamps or wall sconces to illuminate the entire room.
Use table lamps, arc lamps and floor lamps as task lights. You can use LED string lights, Edison lights, laser projectors, faux candles as accent lights. Layer 3 or 4 types of lights containing three required types of illuminating.
Mains Powered or Battery Powered to Choose?
As you are learning how to light a bedroom without overhead lighting, you should know which lights are best between mains-powered lights and battery-powered lights.
Mains-powered lights are long-lasting. As you are living in a bedroom without overhead lighting, you need plug-in lighting options for each type of light. You need to plug the lights into the power outlets and enjoy the lighting.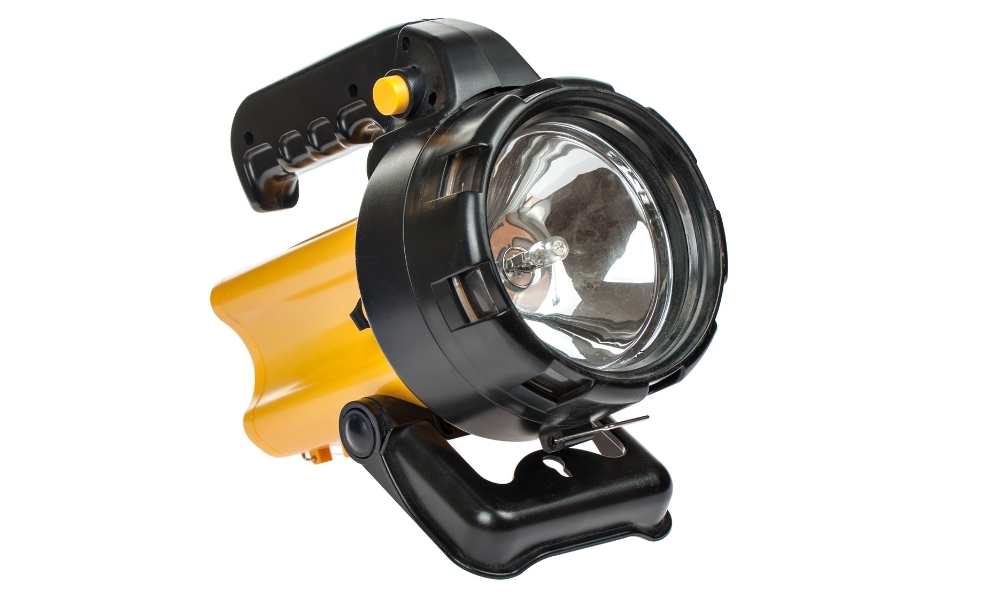 Battery-powered lights don't need to plug in any power outlet. They are free from wires. But battery-powered lights may need to be replaced when the battery is finished and you have to attach new lights.
You can reach the tough corners with battery-powered lights but keep their replacements in the collection so that you can attach the new ones when required.
So mains-powered lights are the best option. You just need power outlets for them to plug them in.
Use Reflection Tricks
Reflecting the lights increases the brightness. You just need to use mirror reflection and you will not miss the lack of overhead lighting anymore.
Place two or three mirrors in your bedroom at different angles. Position the lights opposite the mirrors so that they keep reflecting one mirror to another mirror.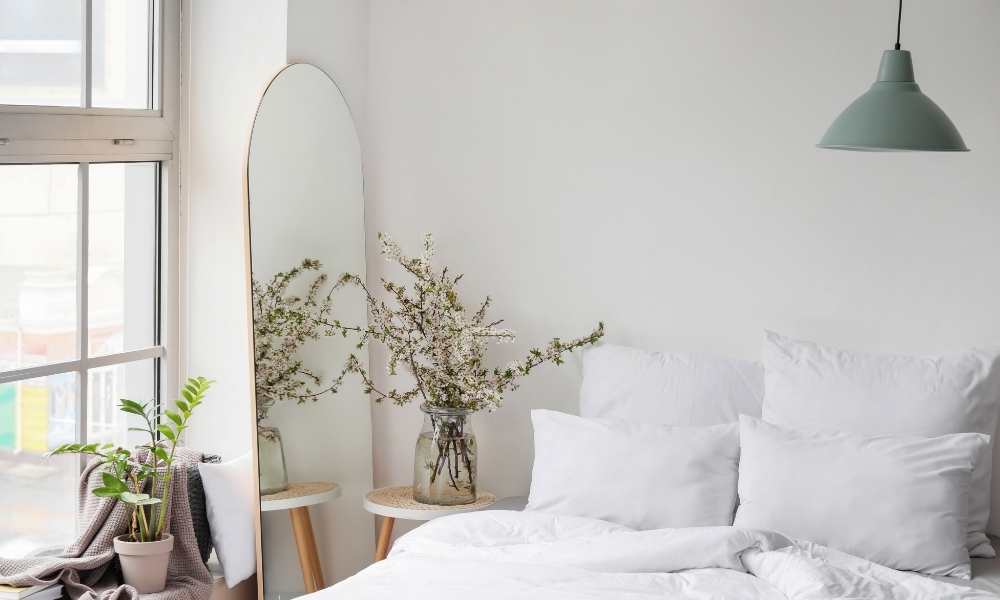 In this way, the brightness will be twice as bright as before. Use reflective accessories in your bedroom. You can place a glass-made flower vase, stones, wall mirrors, and other things that reflect the lights.
Add Dimmer Switches
As you will layer lots of lights together, you don't need to keep all the lights turned on at the same time. You can turn off some lights which you don't need at that moment.
Brightness is a big issue. You may need too much brightness in the bedroom sometimes or you may want to keep it low. Attach dimmer switches to each of the lights of your bedroom separately.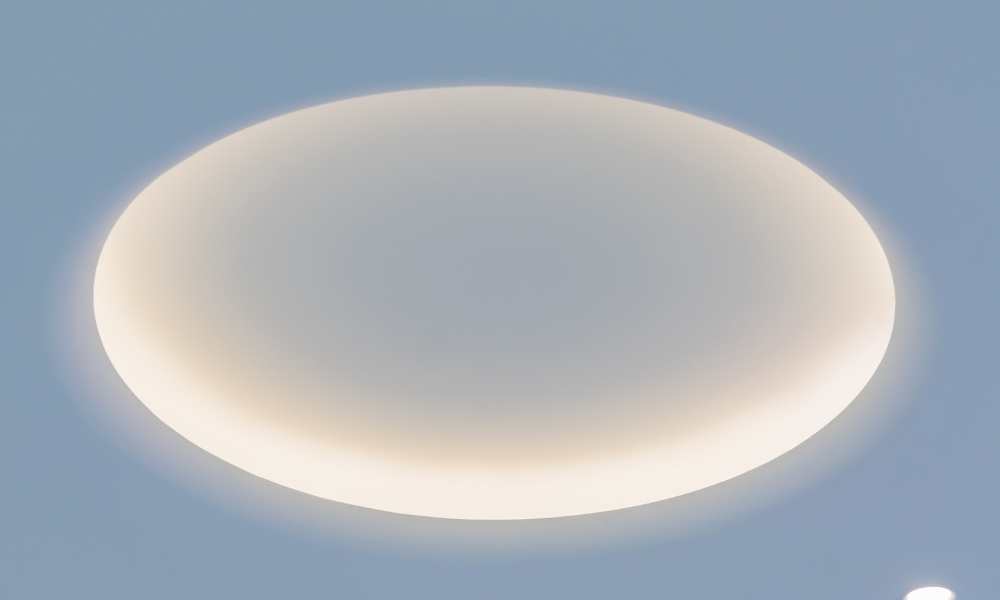 In this way, all your lights won't be bright at the same time even if you enhance the brightness of one light. So you can increase the brightness of the lights separately according to your need.
Conclusion
Overhead lighting is not a necessary thing in your bedroom if you light your room with other types of lighting options perfectly. These lights enlighten the bedroom and enhance the beauty of the room.
You will feel amazing and your bedroom will be a dreamy one even without overhead lighting. So now that you know how to light a bedroom without overhead lighting, use the amazing lights and share your experience with us.
Let us know your opinions and experiences through comments. Enjoy your day!