(Last Updated On: January 25, 2023)
A beautiful balcony illuminated with lights can make all the difference in your outdoor space. Whether you're looking to create an atmosphere for entertaining friends, or wanting to add a touch of beauty to your balcony view, adding the right lighting can really transform the area. When it comes to balcony lights ideas, there are numerous options available to choose from. With a range of styles, sizes and features, you can easily find the perfect lighting solution for your balcony.
1. Brighten Your Balcony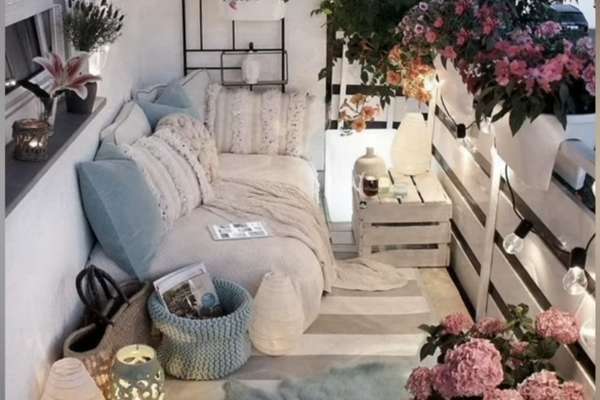 A porch is the perfect place to relax and enjoy the outdoors, but it can also be a beautiful focal point for your home. With a few simple decorating touches, you can brighten up your porch with style and personality.
Adding lighting is an easy way to brighten up an area. Lights come in all shapes, colours and styles so you can easily find one that suits your taste and preference.Hang around railings for a festive look or wrap around trees to give your porch a more cosy appeal. If you're looking for something more permanent, consider installing wall light fixtures that will illuminate the entire space both day and night. They add style points to any outdoor living area!
2. LED String Lights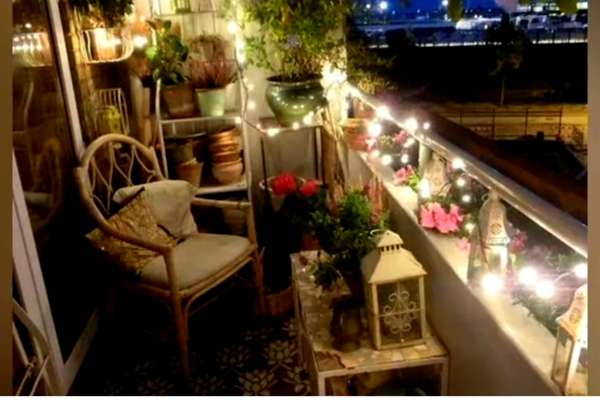 LED string lights are the perfect way to light up your balcony and add a bit of ambiance to any outdoor space. These simple yet elegant illumination come in a variety of lengths, colours and styles so you can find the right look for your home.
These lights offer a level of flexibility that traditional lights simply cannot match. Available in lengths ranging from five to 100 feet and a variety of colour options, they can be easily arranged in shapes or used as accent lighting to create the desired effect on your balcony. They are also weather resistant so can be safely used outdoors without worrying about damage from rain or snow.
3. An Irresistible Ladder Lantern
Adding a ladder lantern to your porch is an irresistible way to spruce up your outdoor living space. This elegant lighting option creates a charming atmosphere. Perfect for adding some ambient lighting and warmth to your outdoor gatherings.
This unique piece of decor adds instant character to any balcony. Its modern design features a ladder-style frame with glass panels that house the lightbulbs, making it an eye-catching statement on its own or with other accents such as potted plants or trees. Robust construction ensures quality and reliability while the smooth finish ensures effortless maintenance over time. Whether you want full illumination or just subtle accent lighting, this ladder lantern is sure to meet your needs and brighten up your balcony!
4. Create Beauty With Trailing Lights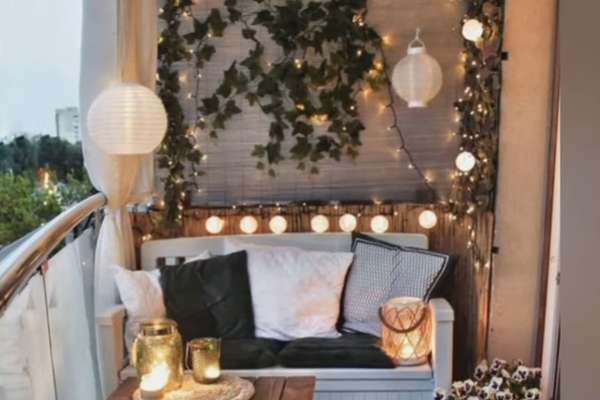 Trailing lights are a great way to add beauty and ambiance to any space, especially balconies. Whether used for entertaining friends or simply as a decorative feature, trailing illumination has the power to truly transform an area with their warm glow.
These strings of lights will bring warmth and charm to any outdoor area. Whether you choose traditional fairy lights or delicate icicle style designs, they instantly brighten up your space while creating an inviting ambiance. Not only do they look beautiful in the evening when lit up, but they also provide a subtle decoration during the day. You can hang them around railings or hand them from baskets to add texture and interest.
5. Add Romantic Lighting
Adding romantic lighting to your balcony can be a great way to create the perfect outdoor oasis. Stringing lights around your balcony can provide an inviting atmosphere for you and your partner to relax, unwind, and enjoy each other's company.
For those looking for something simple yet elegant, LED string lights are an ideal choice. With their warm glow and low energy usage, these lights add just the right amount of romance without taking away from the natural beauty of your surroundings. They also come in many different shapes and sizes so you can find one that fits perfectly into any space. For added glamour, try pairing them with decorative lanterns or candles to create an even more intimate setting.
6. Use Railing Lanterns To Make Attractive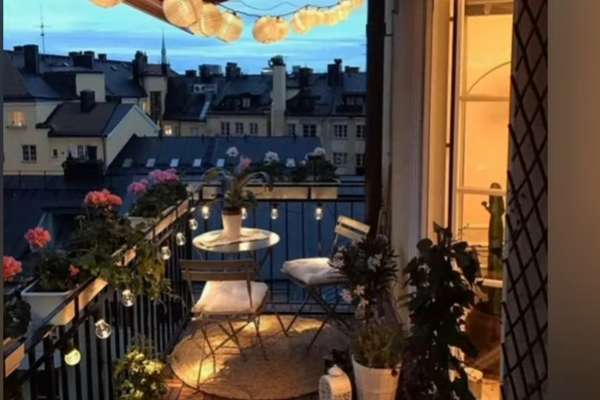 Railing lanterns are a great way to add stylish yet functional lighting to your balcony. They provide additional illumination for safety. And can also help create an attractive and inviting environment.
These lights can come in various shapes and sizes, making them perfect for balconies of all different sizes and designs. Many railing lanterns come with adjustable height so that you can get just the right level of light without having to worry about it being too bright or not bright enough. Plus, since these lights are typically easy to install, you won't have to worry about spending too much time setting them up either.
7. Festival Lights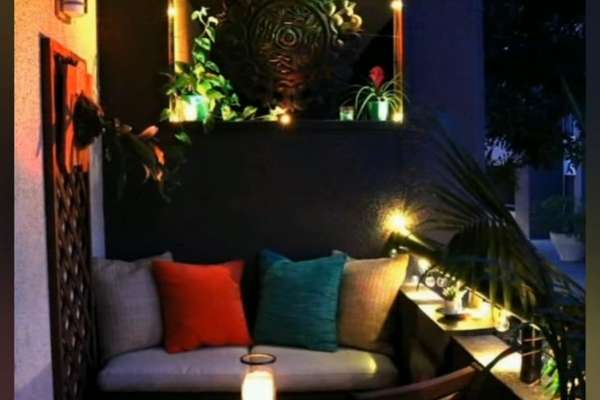 Festival Lights are one of the best ways to bring a festive atmosphere into any home. Perfect for occasions such as birthdays, anniversaries, or just to celebrate the end of the day, these balcony illumination will help you create an enchanting environment.
These Festival Lights have been specially designed to be hung on balconies and patios, adding a touch of colour and fun to your outdoor space. Whether it's a romantic dinner party or an outdoor movie night with friends, these lights can instantly brighten up any evening. The long-lasting LED bulbs are waterproof so they won't be affected by rain or windy weather conditions! They also come in many different colours and shapes like stars and butterflies that can be easily attached with clips included in the package.
8. Table Lamps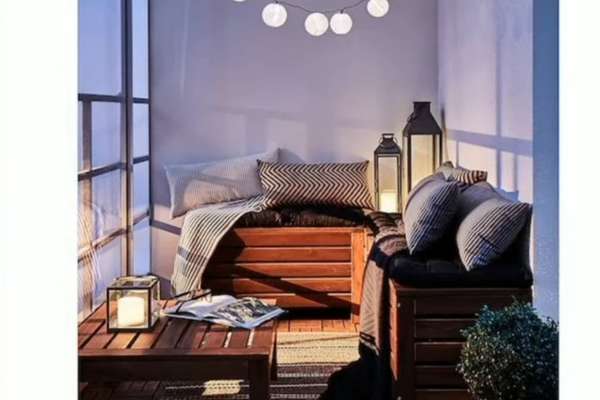 Table lamps are a great way to bring light and style into your home. Balcony lights can be used both indoors and outdoors in order to create a unique look that will add character to your home.
Table lamps often come in different shapes, sizes, and materials so it's important to find one that best fits the theme of your balcony. LED table lamps are popular as they don't take up much space and provide a soft glow of light perfect for relaxing afternoons spent on the balcony. They also provide adjustable lighting levels so you can dim them when needed or brighten them up when entertaining guests outdoors.
9. Add Fairy Lanterns
Outfitting your balcony with fairy lanterns is a great way to enhance your outdoor space. These whimsical little lights provide the perfect decorative touch for any balcony. They're easy to install and can be used in numerous creative ways, allowing you to customise the look of your outdoor area.
Fairy lanterns offer a unique look that adds charm and atmosphere. They come in various designs such as stars, moons, hearts and more with strings of LED lights that give off a soft glow. This makes them perfect for setting the mood on your balcony while providing subtle illumination at night. You can hang these gorgeous pieces around railings or along the walls which can be easily adjusted according to the size of your space.
10. Use Hanging Lights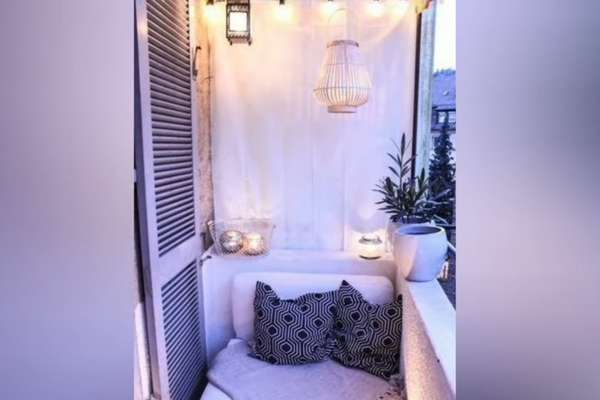 Hanging illumination is a great way to transform an outdoor area into a place of beauty and relaxation. Not only do they add charm and sophistication, but they can also provide extra illumination when needed.
When selecting hanging lights for the balcony, consider style as well as size. Wall sconces are perfect for those who desire a more traditional look; chandeliers create a touch of elegance; and lanterns give off an inviting glow. Many designs even feature solar options that won't run up the electricity bill or require hard wiring. Additionally, LED bulbs are energy efficient and last longer than traditional bulbs. With so many choices out there, you're sure to find something that fits your personality and needs.
11. Setup Waterfall Lighting
To begin setting up waterfall lighting on your balcony, you'll need to gather some materials such as LED string lights, power strips, and mounting hardware.
Hang the string lights along the railing of your balcony in a way that creates gentle curves or drops of light down the length of it.
Plug each string light into a power strip and use mounting hardware or clips to secure the power strips to ensure they stay securely connected near an outlet for easy access.
12. Create A Charming Romantic Outdoor Space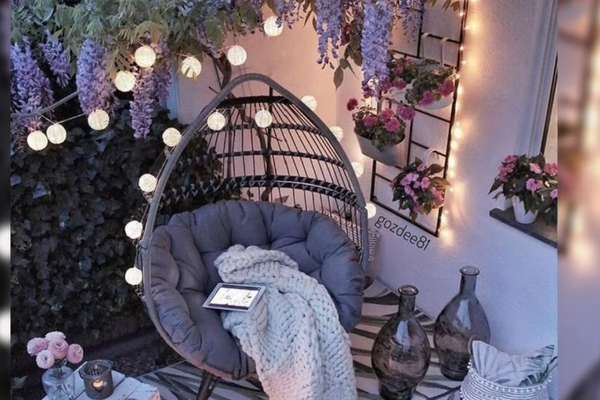 Adding string lights along your balcony railing will create a beautiful ambiance as night falls. You can choose between white or multicoloured depending on your preference. If you have planters or hanging baskets around the area, adding fairy lights around them will give an enchanting effect that will keep you spellbound all night. For something more subtle yet elegant, candles will always be a great choice.
13. Place Small Lanterns On The Floor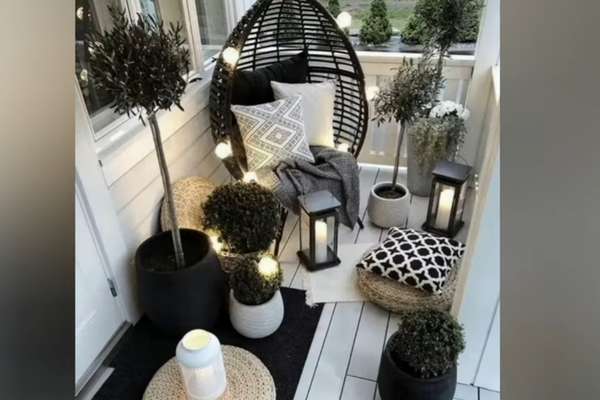 Place small lanterns on the floor of your balcony to sparkle up any outdoor space.These lanterns come in all shapes, sizes and colours – perfect for creating a unique and creative atmosphere. The beauty of these small balcony illumination is that you can mix different styles together to create something truly special that fits into the look of your home.
Combine patterned lanterns with plain ones or opt for an array of colours to make your balcony shine in the night sky! Additionally, you can add some string fairy lights around the railing or use battery operated LED candles to add an extra layer of stunning light effects.
14. Include Bulbs On The Railing With Candles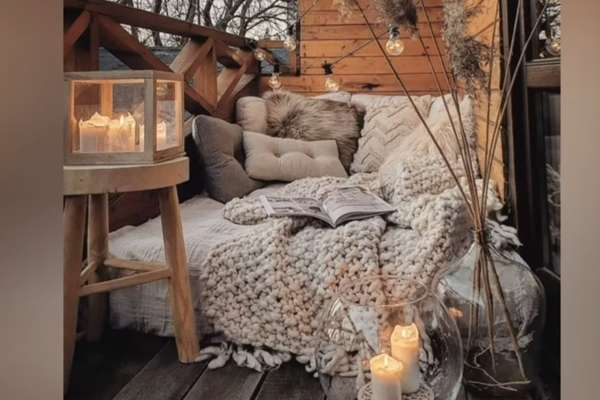 Adding lights to your balcony is an easy and affordable way to enhance its aesthetic appeal. Plus, it can create a romantic atmosphere for those special occasions when you want to impress your guests! You don't need any fancy equipment either – just some rope-like string lights and some candle holders or lanterns. Simply attach the string lights onto the railing and place the candle holders along it for added illumination. Not only will this bring out the beauty of your outdoor space but also add extra safety measures by helping light up any dark corners on your balcony as well.
15. Use Diffused And Focus Lights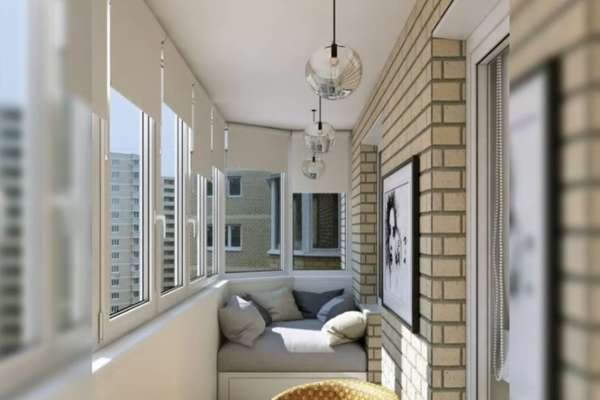 Diffused lighting produces an even spread of soft, filtered light which creates an ambient atmosphere on your balcony. Focus lighting, on the other hand, offers more concentrated beams of light to accent certain points in your outdoor space or highlight certain features like flower beds or seating areas.
With this type of light you can create drama with focused spots that draw attention to certain areas while still providing ample general illumination around them. Using diffused and focus lights together provides balance between atmospheric mood lighting and highlighted focal points that will create a unique experience in your balcony space.
16. Pendant Lights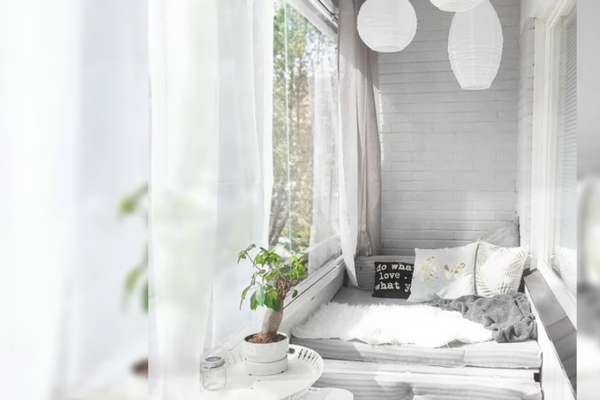 Pendant lights are a great way to add style and character to any outdoor space. From balconies and patios, to porches and decks, these illumination provide an extra layer of ambiance and illumination that can transform any area. With a variety of shapes, sizes, colours, and finishes available for pendant lighting fixtures, it's easy to find the perfect option for your balcony.
For example, hanging string lights are an ideal choice when creating a cosy atmosphere outdoors; they come in various lengths so you can customise the look of your space. Meanwhile, lantern-style pendant illumination offers more traditional vibes with their classic designs and warm hues—an excellent option for illuminating your balcony while maintaining a timeless aesthetic.
17. Use Mood Lights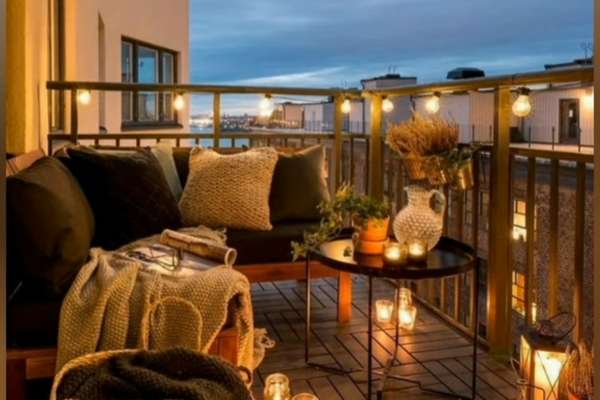 Adding mood lights to your balcony can add a touch of elegance and mystery to the outdoor area. These Illumination can come in various shapes, sizes, and colours that will help to bring life to your balcony.
When choosing the right mood light for your balcony, there are several variables you should consider. Think about the size of the space you have available as well as what type of lighting would best suit it. You may want brighter hues for a summer barbecue or more subtle tones for an intimate dinner for two. Regardless of what look you go for, it will be certain to bring a unique ambiance that is sure to impress anyone who visits your home!
18. Add Overhead Starry Night
Adding overhead starry night lights to your balcony is a simple way to instantly transform outdoor spaces. With just a few steps, you can elevate any outdoor space into an illuminated masterpiece.
Overhead starry night lights come in various styles and sizes so finding one that suits your needs is easy. Choose from subtle twinkle light strands or opt for something more intricate like paper lanterns with LED strings inside them for an added touch of whimsy. Installing these illumination is as easy as stringing them up along the railing of your balcony or on the walls around you. From there, just plug them into an electrical outlet and you're all set!
19. Task Lighting
There are many different types of balcony lights available for task lighting, including recessed lighting, wall-mounted sconces, hanging lanterns and even spotlights. Recessed lights can act as the main source of light in your balcony while also providing accent lighting with their directional beams of concentrated light. Wall-mounted sconces look attractive when placed around seating areas and create subtle pools of light which will enhance the atmosphere of any outdoor area.
20. Use Shadow Lights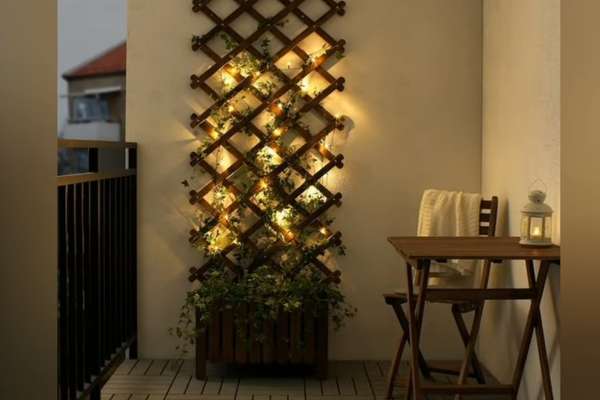 Decorate your balcony in a unique way with shadow lights. Shadow lights are the perfect way to add style and illumination to your outdoor space. They provide a soft, ambient glow that will enhance any modern or traditional balcony design.
These lights come in many sizes and styles, so you can choose the one that best fits your vision for the area. You can also get creative with how you display them – hang them on walls, drape them around railings and poles, or even place them on ledges and other surfaces. With these versatile lighting options, you'll be able to create a look that's truly unique to your balcony space while adding an extra layer of light and atmosphere at the same time.
Conclusion
Balcony lights can be a great way to add ambience and personality to your outdoor space. Whether you're looking for something elegant, simple and subtle, or vibrant and eye-catching, there are many options available to suit your taste. From solar string lights to paper lanterns, LED fairy lights to scented candles, there is a wide range of balcony light ideas that will bring visual interest and warmth to your terrace or patio area.