(Last Updated On: February 8, 2023)
Installing a chandelier helps to create a focal point not only in your fixed room but in your entire home. But if it is really on a high ceiling very common to ask how to clean a chandelier in a high ceiling and nothing can be an interruption to get the stunning illuminator and adding value pf your property which comes with a chandelier hanging even the cleaning issue of this item. There are clean chandeliers on the high ceiling.
With their size and arrangements, it is not always possible to bring down and clean them. While this fixture is related to sophistication and has great appeal for any place it required extra care every two months once without listed guidelines. your proper cleaning reinforces their sparking beauty with an elegant structure. As we know it's really tenacious for you, we made them easy by shortcut but effective process of "how to clean chandeliers" to confirm its magnificent looks for a long time. So no more wasting time, get a short idea about them.
How could you maintain and often cleaning is necessary of a chandelier?
It is essential to keep your chandelier in optimal condition with a feather duster and lamb's wool duster simply dusting it every 2 or 3 months. Even doing this when you find your chandelier is losing its gorgeous look while the bulb and frame seem dull made a mind to clean them with soap and water and other products which are specially made for doing these things. Sometimes people want to know a specific time span to clean them which is once a year to provide a new-like look.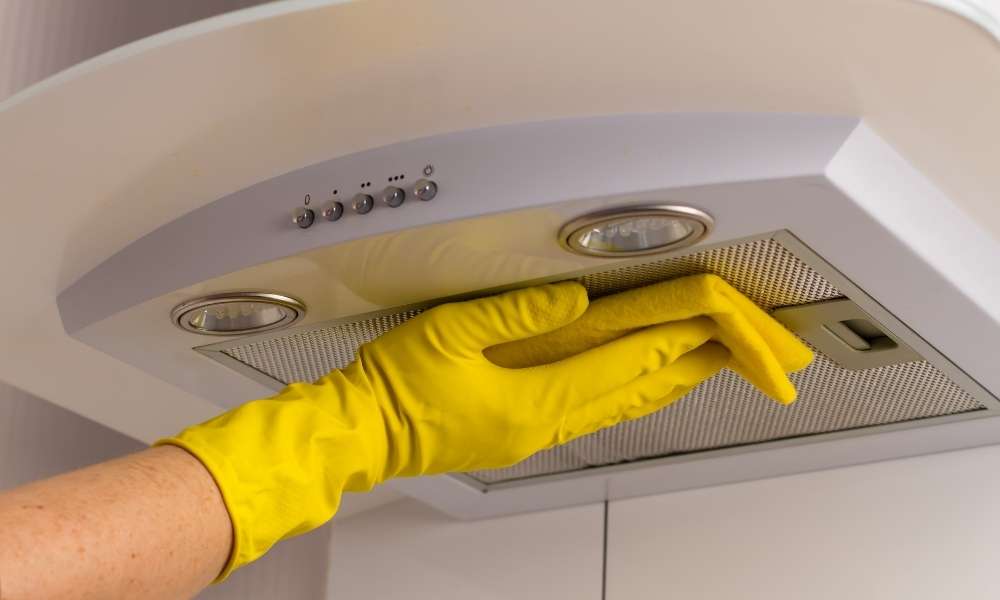 Ways to clean a chandelier
There are two ways you can choose your preferred one to clean your chandelier.
Method-1: Reach and clean
When you have very beautiful and fully assembled chandeliers or planning to purchase such of them, this method works great for you. Plus this is the simplest way to clean your chandeliers which consumes less time and offers shiny cleaning. Yet by this process, you can not be capable to reach every single unit of them but you can clean it mostly which makes you satisfied in days if you want to do this.
Method-2: Disassembly
In the first option of cleaning a chandelier, ways need a ladder to reach the hanging unit. But if you have an issue to work with a ladder this method is for you but not keep your chandelier dirty. At this time you need to take off this item and clean every single part with the help of a soft cloth or lint-free padding to clean it properly. One more thing before going this method, you have enough confidence to put them together after completing the whole task.
How to clean a high ceiling chandelier
Taking off the large chandelier is always hassled for anyone but you have a heavy chandelier with much dirt. So we are sharing a way through which you can easily clean your chandelier very quickly. Then the following instruction and clean your high ceiling chandeliers.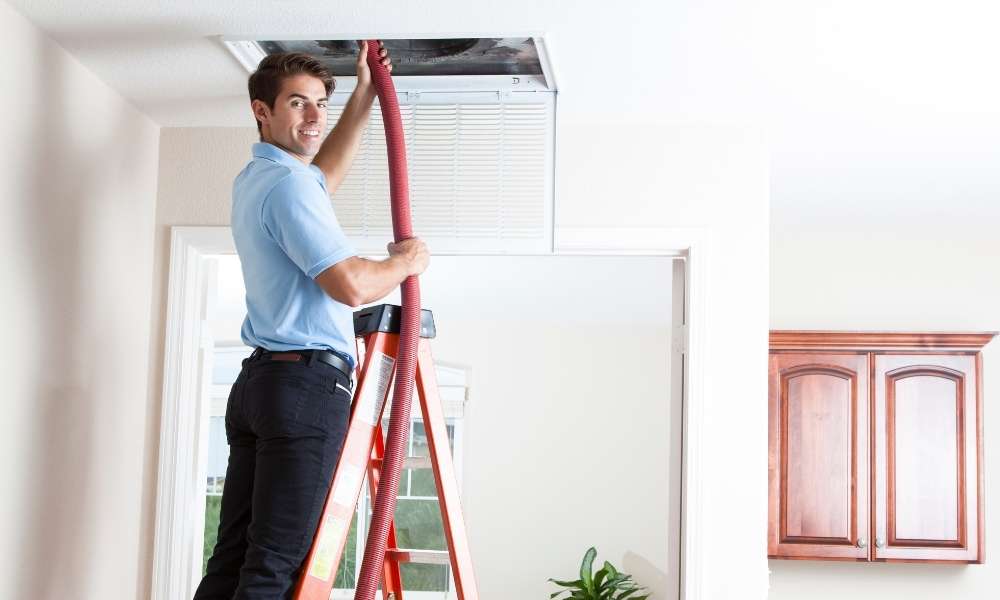 Firstly you manage a ladder to reach the ceiling.
Secondly, for manual dusting use a duster to clean.
Thirdly, to be more comfortable caring soap water use a spray bottle and wipe down the chandelier with a soft cloth.
How to clean a crystal chandelier
A crystal chandelier is a great addition to your home to brighten up the place. On the other hand, because of their materialistic elements and cut they have a good price so without proper cleaning it will lose its appeal after a few years. So, we are here to provide the excellent two ways to clean your best crystal chandelier and find out which you will apply to clean next time.
Which things are needed?
When you have decided to go ahead with the job yourself, check you have the essential things for "how to clean a chandelier".
A ladder
Lint-free cloth(linen specialized for cleaning glass item)
Lint-free gloves
Isopropyl alcohol and distilled water to make a homemade cleaning product
To prevent any kind of losses from dropping crystal items you should lay down a blanket or other thick drop cloth underneath the chandelier.
How to clean a crystal chandelier without leaving it from the installed place
These are the easiest two methods of cleaning a crystal chandelier. For routine cleaning, your lighting may not become dirty enough to require taking it apart and need a hard wash each time. But before starting hard wash create a solution of one part isopropyl alcohol to four parts distilled water or create a mixture of lukewarm water and dish soap. Guidelines to follow:
Firstly, Lay a blanket to catch and prevention of damage if any pieces get to fall apart and breaking of them.
Secondly, it is a safety norm to turn f the lighting power supply and place a piece of tape over the light switch to mark for other members of the family won't light the chandeliers at the time of cleaning.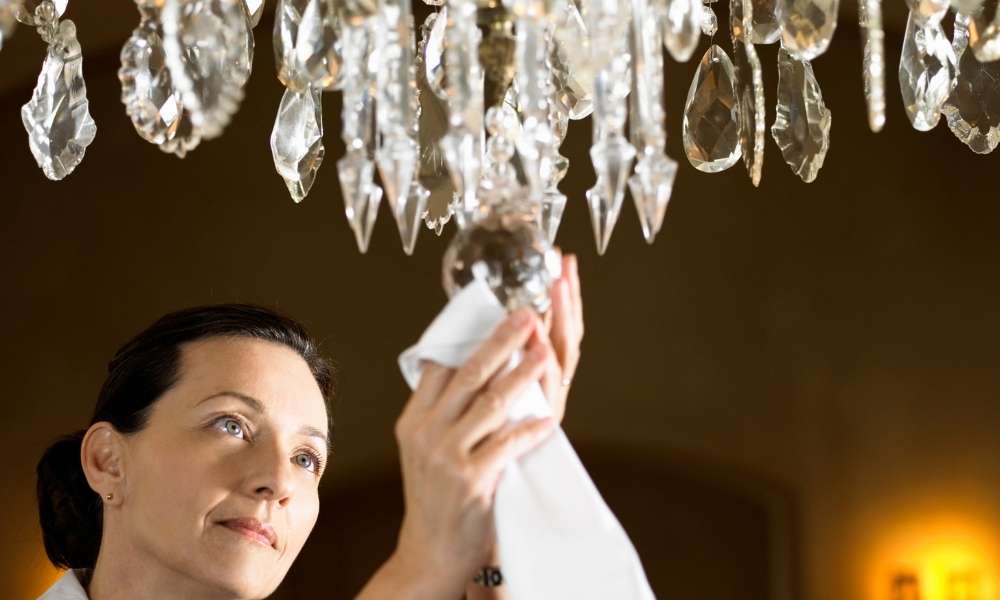 Thirdly, on your crystal prisms your fingerprints will be disgusting so put on white cotton gloves to prevent the transferring of those on them. If you feel the need for the ladder use it to reach the ceiling close to the chandelier.
Fourthly, start spraying the homemade cleaner over the chandeliers properly. And use a damp cloth to clean crystal pieces.
Finally, to prevent water spots you should start wiping immediately with a dry lint-free cloth
Advanced tips for cleaning a crystal chandelier
We are attaching several tips that might be helpful to clean a Crystal Chandelier. Such as:
Avoid using ammonia-based cleaners, which can remove the finish from the gold- or silver-plated hooks that hold the crystal prisms in places.
Do not rotate the chandelier to reach each section. This could loosen the fixture's supports, which could eventually cause it to collapse. Even, it will be better to move your ladder around as you cleaned.
Replace the light bulbs, especially if the lighting is hard to reach.
Safety precaution of cleaning a chandelier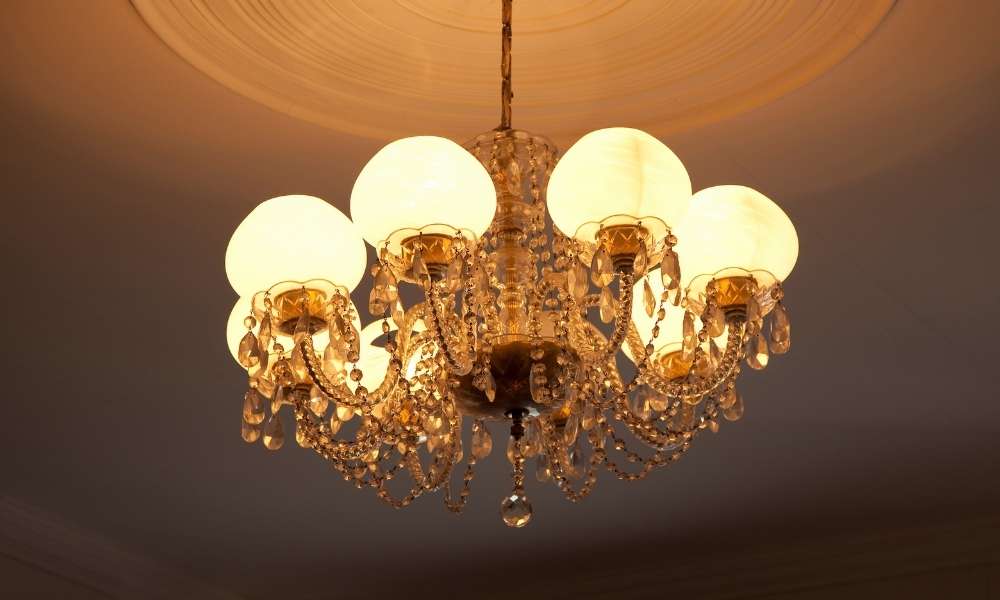 To complete" how to cleaned chandeliers", if your lighting is large or complex, or hung particularly high, you should contact a professional lighting cleaner. If you don't have the time to do the job properly, or you are uncomfortable working on a ladder, it will also a smart option. One more thing about safety precautions such as turning off the electric supply. Don't extent the ladder when you are uncomfortable with length. And to do all things when there are more even single people to help you.  
Conclusion
In this article we have discussed all the things which are related to "how to clean chandeliers", Even we made the distinctive parts for a better understanding "how to clean chandeliers on the high ceiling" and "how to cleaned crystal chandeliers". As we don't want to leave you with your dirty chandeliers whether is crystal one or is placed on a high ceiling. You should follow every single thing to your steps safe and effective.